STEP 1
Professional Learning & Preparation
STEP 2
Phase 1 – High Direction
STEP 3
Phase 2 – Mentored Exploration
STEP 4
Phase 3 – Independence
STEP 5
Presentation & Celebration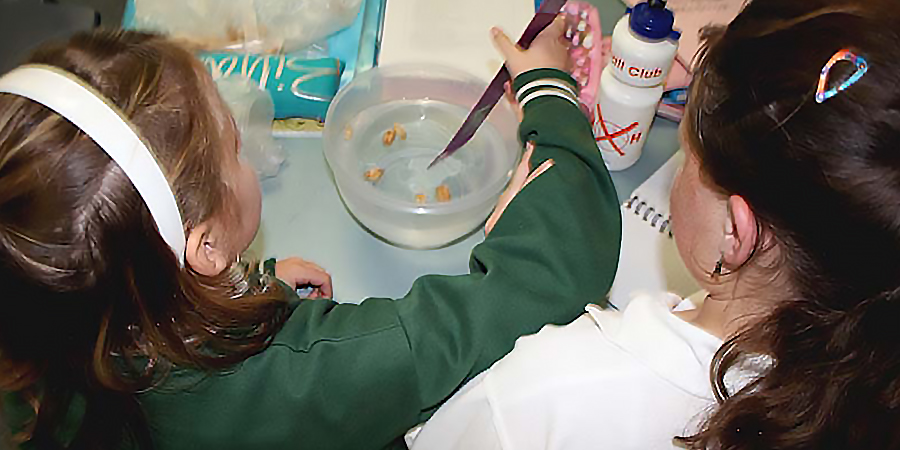 Goals for STEP 4
Facilitate DATA PROCESSING with student groups to prepare for final Mentor/MySTic visit
Facilitate MENTOR VISIT #3
Scroll down for more information.
DATA PROCESSING: facilitate first steps with student groups
MENTOR VISIT #3: prepare for and facilitate
STEP 4 covers WEEKS 6 & 7 of Implementation

Data Processing

This step is BETWEEN the second and third mentor visits and is MOST important so that the ANALYSIS and EVALUATION of the data can happen in SCHOOL VISIT #3 with the Mentors/MySTics.
The purpose of this step is to have students record their data (in tables) and show their findings in a graph. Resources 4.1 – 4.8 support this step:
'4.1 Literacy and Numeracy Video' presents teachers who describe how literacy and numeracy skills can be developed through MyScience.
'4.2 Processing Data – Introduction' provides an overview of the step.
'4.3 Data Analysis Expectations' presents information about stages of learning related to students' ability to analyse data.
'4.4 Data Tables' describes the components of a table.
'4.5 Data Averaging' provides information about averages, stem & leaf plots, median, mode and mean.
'4.6 Graphing' discusses the type of graph needed to suit different types of data.
'4.7 Hypotheses' presents a data set to be analysed.
'4.8 Gatorade Video' presents students who report on their investigation into the effectiveness of a sports drink and critically reflect on their data.
Mentor Visit #3

The third and final school visit is where students are supported to COME TO A CONCLUSION based on their collected data, and to evaluate the investigation: What worked. What didn't work. What would be done differently another time. How could the investigation be extended or progressed.
The point of a scientific investigation is NOT to PROVE a prediction or hypothesis. Data is data. What does the data show?
An investigation is considered to be HIGHLY SUCCESSFUL when it is a fair test, when there is replication and when the data is meticulously collected – it is not about 'getting the result that I thought I would'.
As a THANK YOU to mentors/MySTics for their time and expertise consider having each student group make a CARD. A small GIFT such as a school mug would provide a lasting memory of time with you and your students, and pave the way for future years of involvement.
The following RESOURCE BUTTONS provide information to help you facilitate Mentors/MySTics and student groups to critically analyse their data:

'4.9 Student Reflections' presents a video of students reporting about their investigation comparing boys' and girls' memory. Note how students reflect about areas for improvement on their investigation.
'4.10 Critical Analysis' presents questions for students about the RELIABILITY of their data such as: Have they taken enough measurements? Are the measurements over a wide enough range?
'4.11 Making Generalisation' provides information about the need to take care when extending the results from a small scale classroom investigation to the outside world where many more factors come into play in complex settings.
4.1 Literacy and Numeracy video
4.9 Student Recollections